Audio
Great breaks achieve a positive strategic goal back to the show. They communicate, both in content and presentation, something about the show plot. Breaks which score are real, relevant, and fun. They earn you valuable images. Here are some breaks by Reynolds Group shows which achieve this.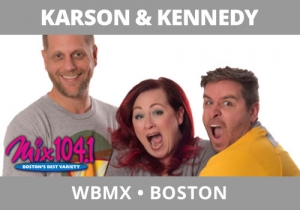 It always helps to have fun experts on the show – they add to the entertainment factor of a break and give the cast something to play with.  At Karson and Kennedy, MIX 104.1, Boston, Producer Mike was slated to marry two friends (he's ordained).  Mike hasn't done that too much.  So the show found a local justice of the peace they knew and asked him to participate in the break to give Mike advice.  Great on paper, right?  What adds to this is that the justice of the peace was very quick witted and knew the players so he could have fun with not only the scenario (he can tell stories about marrying people) but poke fun at Producer Mike, too, which made it more fun.  When doing something like this, find experts in the field who can help your break have more sparkle.
Let The Reynolds group help you win bigger!
To learn how we can help you.  Call us at 919.821.4700 or send an email!
Email Steve Reynolds