Audio
Great breaks achieve a positive strategic goal back to the show. They communicate, both in content and presentation, something about the show plot. Breaks which score are real, relevant, and fun. They earn you valuable images. Here are some breaks by Reynolds Group shows which achieve this.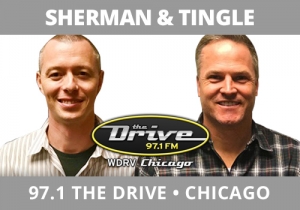 Knowing we cannot be reliant alone for male listenership for a classic rock station in market number three, we crafted a feature for Sherman and Tingle, WDRV (The Drive), Chicago called Two Minutes With Our Wives to get more women to connect with the show and its content. Under the thesis that the guys talk about their wives all week, the wives join the show on this Monday benchmark to "grade" their husbands around one central topic – how they were as spouses over the weekend.  This is when it gets real!  The wives grade the men, then substantiate their assessment by telling stories from the weekend.  Sometimes the guys get an "A", occasionally it's an "F", but it's always character defining and fun.  This is character development at its highest because the women are in charge.  The gentlemen are, of course, there to defend themselves while the rest of the cast stirs the pot to create the humor.  This is relatable, story-based, and done in a playful way so it's very accessible content.
Let The Reynolds group help you win bigger!
To learn how we can help you.  Call us at 919.821.4700 or send an email!
Email Steve Reynolds