Audio
Great breaks achieve a positive strategic goal back to the show. They communicate, both in content and presentation, something about the show plot. Breaks which score are real, relevant, and fun. They earn you valuable images. Here are some breaks by Reynolds Group shows which achieve this.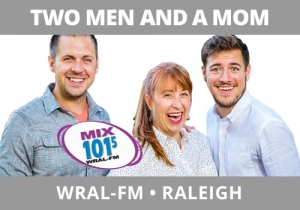 We embarked on a community service project with Two Men and a Mom, MIX 101.5, Raleigh this past week.  One of their yearly causes is Backpack Buddies, where they ask the audience to donate things for backpacks for underprivileged kids going back to school.  Instead of the standard pitch, we decided to pit Team Men verses Team Mom to play off the name of the show. Part of that was to get local celebrities to call in and pledge to a team believing the guys would pledge to Team Men and the women would join Team Mom.  The show scored an interview with the iconic Coach K from Duke, which is in the market.  Here's his interview.  The entire goal is to build support for the day we gather the items, creating a fun and friendly competition in the process to help define the cast.  You might be surprised at the team Coach K chose, showcasing his excellent sense of compassion and humor in the process.
Let The Reynolds group help you win bigger!
To learn how we can help you.  Call us at 919.821.4700 or send an email!
Email Steve Reynolds