Audio
Great breaks achieve a positive strategic goal back to the show. They communicate, both in content and presentation, something about the show plot. Breaks which score are real, relevant, and fun. They earn you valuable images. Here are some breaks by Reynolds Group shows which achieve this.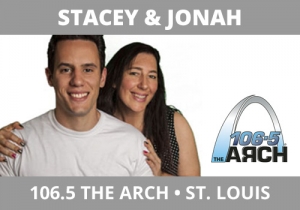 It's a dilemma as old as radio.  How to talk about sports on a female-targeted radio station, especially if the sporting event is the biggest topic in town.  The answer may be easier than you think.  Talking X's and O's with scores and stats aren't even done on sports-talk stations – they story-tell and entertain.  Which is where our answer actually is.  Create fun, tell stories, personalize the experience, and it will be inviting to both men and women.  The St. Louis Blues had an amazing run-up to win the NHL's Stanley Cup.  Stacey and Jonah, 1065 The Arch, St. Louis added a feature to their show to bring listeners into the arena experience with the addition of Hey Beer Vendor, where they got to know the beer vendors in the stadium.  They redid Lady Antebellum's "Hey Bartender" for a production value and then had fun with beer vendors, coming in the side door to talk about sports, while keeping it fun and relatable to their target demo.
Let The Reynolds group help you win bigger!
To learn how we can help you.  Call us at 919.821.4700 or send an email!
Email Steve Reynolds