Audio
Great breaks achieve a positive strategic goal back to the show. They communicate, both in content and presentation, something about the show plot. Breaks which score are real, relevant, and fun. They earn you valuable images. Here are some breaks by Reynolds Group shows which achieve this.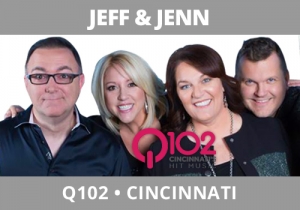 What does a typical radio station do for Mother's Day weekend?  They give out flowers or spa certificates to caller ten every hour.  The atypical radio station has every daypart co-hosted by the mother of the DJ on the schedule.  That's what the brilliantly programmed Q102, Cincinnati (Patti Marshall, PD!) did last month when faced with doing something special that weekend.  One of the many great things about the Q102 brand, built over many years, is its laser focus on the right music, its longtime, highly entertaining Jeff and Jenn morning show, and doing unique things like this to connect with and entertain the audience.  Where most stations do standard fare, Q102 has always stood out to do something unique, fun, different, and interesting, which is why it always wins big.  Here's one of the promos they ran that weekend so you can get a sense of what they did and how it sounded.
Let The Reynolds group help you win bigger!
To learn how we can help you.  Call us at 919.821.4700 or send an email!
Email Steve Reynolds