Audio
Great breaks achieve a positive strategic goal back to the show. They communicate, both in content and presentation, something about the show plot. Breaks which score are real, relevant, and fun. They earn you valuable images. Here are some breaks by Reynolds Group shows which achieve this.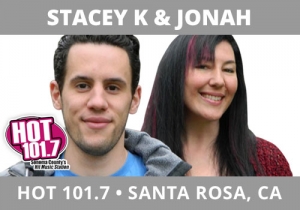 One very critical element to crafting a successful break is to engage elements in story-telling where the listener feels like they were there when it's told.  Stacey K & Jonah, Hot 101.7, Santa Rosa, CA recently heard that a salesperson at the radio station was on the phone with a worker at a local jewelry store as it was being robbed.  They had two options:  tell the sales person's story based on what they heard.  Or get the sales person to come on and gather the details by asking the right questions.  Having the person on repositions the story in the first person and is much more emotional where all the talent had to do is ask the right questions to probe the story and react naturally.
Let The Reynolds group help you win bigger!
To learn how we can help you.  Call us at 919.821.4700 or send an email!
Email Steve Reynolds