Audio
Great breaks achieve a positive strategic goal back to the show. They communicate, both in content and presentation, something about the show plot. Breaks which score are real, relevant, and fun. They earn you valuable images. Here are some breaks by Reynolds Group shows which achieve this.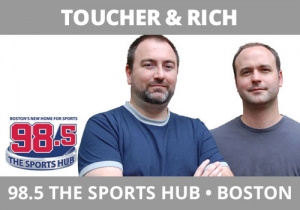 This week, Boston radio was amazing.  I spent much of my time listening to how they handled the Marathon bombings.  And walked away very impressed.  Specific kudos to the two shows I work with in Boston, Karson and Kennedy on MIX 104.1 and Karlson and McKenzie on WZLX.  Both shows were spectacular the entire week.  While I could have chosen literally dozens of breaks to post, I've decided on one done by the morning team of Toucher and Rich, 98.5 The Sports Hub, Boston.  The second bomb went off outside the apartment building in which Rich lives.  A place he passes through ten times a day.  And a place he'd been only moments before with his young son as they went to watch the end of the Marathon.  In this break, Rich tells his story.  It is exceptionally moving and brilliant radio.  That Rich's wife suffers from cancer has added to a very challenging few months for his family.  It all comes out in this break.  We talk all the time about telling stories, about how could we ever expect the audience to get close to us if we can't give up ourselves to them.  To be vulnerable and honest.  This is it, at its most masterful.  In the first part of the break, listen as Rich gives first-hand details, and paints the most colorful pictures of what happened and what he saw.  You literally feel as though you are there with him.  In the second half of the break, his emotions come through as he expresses his grief, his fear, his anger, his frustration, and his compassion for himself, his family, his city, and all who are listening.  That he spoke for them, and did so in the most real, honest, and vulnerable way, makes this an exceptionally memorable and powerful break.  It lasts 13-minutes and deserved every second of it.
Let The Reynolds group help you win bigger!
To learn how we can help you.  Call us at 919.821.4700 or send an email!
Email Steve Reynolds