Audio
Great breaks achieve a positive strategic goal back to the show. They communicate, both in content and presentation, something about the show plot. Breaks which score are real, relevant, and fun. They earn you valuable images. Here are some breaks by Reynolds Group shows which achieve this.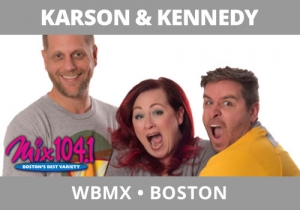 When a spouse goes out of town for work or to visit relatives for a short while, it's natural to fill that time getting to know your neighbors or doing things with friends you haven't seen in a while.  But once that spouse returns, you must re-devote yourself to them.  This was appropriately, if sardonically addressed by Karson and Kennedy, MIX 104.1, Boston, when Karson's wife, Lana, returned from being away for a while.  Karson called his new friend, Michael, on the air to "break up" with him after their brief, early summer bromance.
Let The Reynolds group help you win bigger!
To learn how we can help you.  Call us at 919.821.4700 or send an email!
Email Steve Reynolds