Audio
Great breaks achieve a positive strategic goal back to the show. They communicate, both in content and presentation, something about the show plot. Breaks which score are real, relevant, and fun. They earn you valuable images. Here are some breaks by Reynolds Group shows which achieve this.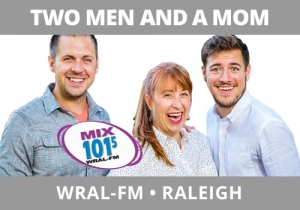 We love when family members (especially funny ones) are included in the show.  They have an immensely humanizing effect on the cast member and are a very efficient way to do character development.  Two Men and a Mom, MIX 101.5 (WRAL-FM), Raleigh leverage family members in a terrific way.  Bryan Lord's father was having a birthday and is a freak for Barry Manlow (a quirky, memorable trait).  Bryan has a unique relationship with his dad so he purchased and sent from Amazon an autographed Manilow picture, and made his father open the package on-the-air without knowing what's in it.  They hid the surprise so they'd get a natural reaction, which was followed by a story (a concert memory).  I leave the break getting a glimpse into the fun relationship Bryan has with his father, felt like I was a part of the reveal, and laughed.  Listeners are drawn to humanity and things that are real.  This serves both goals and is memorable and strategic as a result.
Let The Reynolds group help you win bigger!
To learn how we can help you.  Call us at 919.821.4700 or send an email!
Email Steve Reynolds