Audio
Great breaks achieve a positive strategic goal back to the show. They communicate, both in content and presentation, something about the show plot. Breaks which score are real, relevant, and fun. They earn you valuable images. Here are some breaks by Reynolds Group shows which achieve this.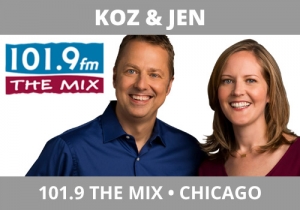 The primary reason a listener chooses a specific show is because it affects their mood positively.  We sometimes convince ourselves that the brands we frequent are for intellectual reasons only ("they play 12 songs in a row!") when, in reality, listeners choose a show because of how it makes them feel.  Each afternoon when listeners are headed home after a long day at work, Koz and Jen, 101.9 The Mix (WTMX), Chicago play Jen's Show Biz Pop Quiz.  No doubt you've heard some version of this game on radio shows.  Why does it work everywhere?  Because after a hard workday, this is mind candy for the audience.  It's not weighty being centered around Hollywood trivia, it's vicarious (one of its critical features), it's character defining for Jen, and it's fun to hear.  Outside thinkers know that we choose a brand to match or affect our moods.  On listener's long ride home in Chicago, this feature puts them in a happy place because of the content done and how it's designed
Let The Reynolds group help you win bigger!
To learn how we can help you.  Call us at 919.821.4700 or send an email!
Email Steve Reynolds