The Power and Peril of Paying Attention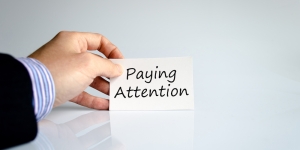 Many of us know someone in radio who's met Taylor Swift.  They gush about how nice she is.  Some reference a handwritten note they've received from her, with something personal inside, after the visit.
You'll get no cynicism from me.  Taylor's a smart marketer who understands her two customer bases:  her fans and those of us who play her songs and talk about her in our content breaks.  She pays attention to us, so we pay attention to her.
Reflecting on this, I ponder how much radio's talent is paying attention to radio's constituencies and if they derive power from it.
We are so conditioned to never hear back from anyone.  With all this technology, the power of a human touch still reigns supreme in developing a relationship with a brand.  I recently changed car companies.  The brand I was driving ignored me and made it very difficult to talk to an actual human being.  The new company won my loyalty because they paid attention to me.
Pay attention to the fans of your show.  How much time do you spend replying to listeners who interact with your program in any way (even on social media)?  It's time consuming, but the upside is immense.  A show recently used the derisive term I hate for a listener who's always looking to win a prize.  She gives us many quarter hours and can decide, if she got a meter, whether you're in first or fifth place.  This isn't about giving listeners prizes to win their affection.  It's about paying attention to them, which is even more powerful.
Pay attention to your listeners and they'll serve you the power of positive chatter and more listening.  I've been on market visits where I've seen talent, when out for dinner, pay attention to listeners who recognize them.  Those folks leave bigger fans and, like Taylor, gush about the talent.
Pay attention to those on your show and the rest of the airstaff.  Every success comes from having a positive culture.  If you're emotionally connected to your team and the airstaff, they will help you move everything to a win.
Pay attention to your co-workers.  Do you manage up and down in the building regularly?  Do you spend time with the other people at the station to show appreciation and make them feel valued?  These people can help make your show more successful.  That engineer you talk to about his weekend?  I bet he'd fix a piece of equipment faster.  That salesperson who's anniversary you celebrate?  It'll be easier to say no to a promotion she wants that won't fit.  These folks can help you power through tough times because you pay attention to them.
Pay attention to clients.  Do you have an active relationship with the biggest local clients of your radio station?  With respect to the hard-working folks in the sales department, you're the star of the station to the clients.  Do you have a relationship with those people who trust your brand with their marketing dollars?  Do you pay attention to them?  Visit them at their store?  Know when their birthdays are and send a card?  Regularly thanking them for believing in your show and the station with their money is a difference maker.  Doing simple things like this makes you quite powerful in the building.  And it'll shield you when ratings and revenue are down, and your market manager must make hard decisions.
We are an intimate medium.  Folks feel like they know us.  Return that favor by paying attention to them.  Paying attention gives you a superpower to craft your future because more people will believe in you and are on your side because you do that for them.  There's great peril, too, if you don't.
Maybe there's a 2024 resolution here that elevates you to epic in how you grow your brand.
https://reynoldsgroupradio.com/wp-content/uploads/2020/08/SteveReynolds_logo-rev-300x86.png
0
0
Steve Reynolds
https://reynoldsgroupradio.com/wp-content/uploads/2020/08/SteveReynolds_logo-rev-300x86.png
Steve Reynolds
2023-11-07 12:47:45
2023-11-07 15:29:48
The Power and Peril of Paying Attention